SURFING QUEENSLAND HALL OF FAME
GORDON JAMES PHILIPSON 1982
Gordon James Philipson became a member of the "Australian Surfriders Association Queensland" (ASAQ) in the first year of its fruition and to this day is considered one of the first father figures of surfing in Queensland.
Gordon dedicated much of his time to shaping the future of surfing within Queensland by implementing some of the very first competitions, which provided many young surfers a sense of purpose. He was a mentor and idol to many, organising countless surf trips to locations all over Australia, which saw him act as a chaperone to many of Queensland's best junior surfers at the time.
Throughout the 1970's Gordon acted as a support figure for then ASA President Brian Austen before he eventually assumed the role of President for both organisations whilst Austen's health was deteriorating.
Gordon was awarded numerous life memberships for his extensive years of service; however, it was with great honour that he was bestowed one of the first two ASAQ Life Memberships ever awarded.
Gordon was sadly lost to the Queensland surfing community following his passing in February 2021, aged 82.
BARRY 'BAZZA' TOWNEND 1982
At the end of World War 2 in 1944, Barry's father came back from fighting in North Africa and obtained the lease for Hotel Coolangatta, moving the family from their home base in Manly. Just a teenage boy, Barry also returned from the war serving in New Guinea.
This was the start of the Coolangatta Townend's.
Barry was a member of the Tweed Heads and Coolangatta Surf Club and held the position of club secretary at one time. He married Hazel Colville in 1952 and not long after along came their first child Peter Townend (Life Member inducted in 2023).
Barry later joined his best mate Gordon Phillipson on the ASAQ Committee in the mid-seventies, and he and Gordon stayed there for a couple of decades.
He built the foundations of Government relations for the ASAQ, would man the Orchy/ASAQ caravan at the surf events (especially the Stubbies) and would administer entries and heat draws at the events.
In retirement he lived his final years in his top floor unit at Torbay in Rainbow Bay.
Barry passed away in April of 2016, aged 91.
BRIAN 'FURY' AUSTEN 1983
Fury was an iconic Coolangatta local with a spindly agile backhand style on the Points at Kirra, Greenmount, and Snapper. A fun-loving character who was highly revered and a big supporter of Queensland surfing who had also worked in Cronulla to learn to shape surfboards. 
When returning to Kirra, Fury became Joe Larkins head shaper. He helped develop the shaping careers of iconic surfers Terry Fitzgerald, MP and PT. Eventually creating his own label of Good Time Surfboards with a shop in McLean Street, Coolangatta.
Brian won numerous titles in his time and was also the President of the ASAQ.
He tragically passed away in the late 70s losing his battle with brain cancer.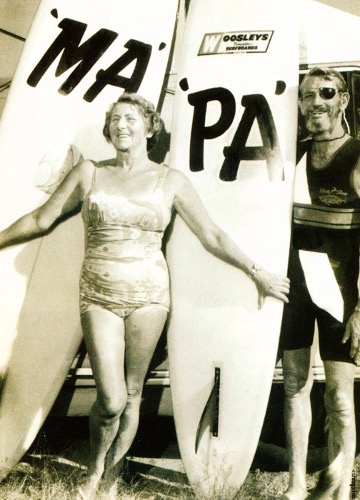 MAJORIE 'MA' and BENJAMIN 'PA' BENDALL 1984
Learning how to surf in their 50's after meeting during WW2, Majorie and Benjamin Bendall were commonly referred to as "Surfing Royalty" within the town of Caloundra, Sunshine Coast. The Mother and Father of surfing within the Sunshine Coast were just among only a handful of local surfers who eventually formed the "Moffateers", now known as Windansea Boardriders Club.
They devoted their time to the Club, introducing many of Caloundra's youth to the sport of surfing. Their overarching objective was to use surfing as a means of keeping them out of trouble whilst growing the profile of the sport they loved. Driving around the countryside in one of the first surfing Ford campers and offering Ma's cooking delights in various surfing carparks.
Following Pa's passing in 1973 the inaugural "Pa Bendall Memorial" competition was held at the very place he learnt to surf, Moffatt Beach. Ma Bendall later died in the year 2001 to which the contest was later renamed as the "Pa and Ma Bendall Memorial" in their honour. The Pa and Ma Bendall Memorial is known to be the second-longest running surfing contest in Australia and the legacy of Pa & Ma Bendall continues within the Windansea Boardriders Club.
WAYNE 'WD' DEANE 1985
Wayne Deane was one of the Gold Coast's most prominent surfing figures. His love affair with the ocean began in his early childhood alongside his brother Robye both taught by their dad, John Deane (Life Member inducted in 2022). They began riding Surf-o-planes in the mid 1950s before progressing to surfing by 1960. The Deane Brothers were a tour de force throughout the 60s. While Robye momentarily retired in the 70s, Wayne continued to develop his tube riding skills with the all too familiar style. Learning the building trade from their father, Wayne developed into one of the leading shapers in the Coolangatta area.
Wayne was a Kirra stalwart. If Kirra was on, you'd be sure to find Wayne in the line-up and his trademark smooth forehand rail surfing was a match made in heaven for the long walls of Kirra. Additionally, the Deane family were vital components of Surfing's development in Queensland.  Wayne's father was an ASAQ founder and Wayne held the position of President of Snapper Rocks Boardriders for some years. Deane represented Queensland and Australia on many occasions, winning 17 shortboard and longboard national titles as well as being crowned World ISA Longboard champion at the 1990 World Amateur Surfing Championships held in Chiba, Japan. Deane was also an accomplished surfboard shaper, crafting an array of boards to be enjoyed at his beloved Gold Coast points and shaping 1978 World Champion Wayne 'Rabbit' Bartholomew's first ever surfboard.
Wayne Deane was also a pivotal figure within the stewardship and protection of the Gold Coast's surf amenity.  He was chosen by his peers to lead the Kirra Point Inc to represent the surfing community when local and state Government's had tabled an initial proposal surrounding the Tweed River Bypass scheme which would have likely resulted in starving Gold Coast points of sand. He also helped save Kirra Headland from being developed and saving the old Coolangatta School building where he had been a student.
Deane affectionately known as the Evergreen or simply Deaney was a popular inductee into the Australian Surfing Hall of Fame in 2003 and will be dearly missed by the broader surfing community.
Wayne passed away in July 2018, aged 66 and is survived by his wife Colleen and his sons Jimmy and Noa.
WAYNE 'RABBIT' BARTHOLOMEW 1985
Alternatively known as "Rabbit" or "Bugs, Wayne was notoriously known to be one of the greatest personalities in surf history.  Rabbit grew up in Coolangatta under the wings of Michael Peterson and Peter Townend. They became known as the Coolangatta Kids. However, it wasn't long before he eclipsed his peers to be a standout tube rider on the Gold Coast Points and a contender in Hawaii. Bartholomew gained much from his early days with MP & PT, taking the best from both of his peers and his passion drove him to become a top rider through extensive study and practise of the sport.
Rabbit was very familiar with being the Queensland and National State Champion; however, it wasn't until 1977 that he became a full-time professional athlete on the ISP tour. During his rookie season he placed 2nd and in the following year became the 1978 World Champion. For the next seven consecutive years he ranked in the top 5 eventually retiring in the year 1987.
In the same year of his retirement Bartholomew was inducted into Surfing Australia's Hall of Fame. Rabbit became Vice-President of Surfing Queensland in mid – late 80's. His delivery of speeches and his addition to the Surfing Queensland committee gave the organisation a much-needed increase in the media.
Post surfing career Rabbit continues to be an influential figure having been a commentator/president for the ASP/WSL and running his own surf school.
TONY 'TD' DEMPSEY 1986
Tony Dempsey represents the epitome of being a surfer/shaper.  Tony has been awarded an Australian title, 16 Queensland titles and 16 Gold Coast Titles.  He was also a 5 times runner up at the Australian Titles – put simply, Tony was a competitive animal. Tony lived and breathed surfing.  One of Tony's first surfing competitions was the 1966 Australian Titles which saw him compete against a swagger of well-known surfing personalities including Nat Young, Peter Drouyn and Midget Farrelly.
Tony is however best known as one of the Gold Coast's most prominent surfboard shapers.
Beginning his shaping career under Lawrie Hohensee's label (Hohensee Surfboards) in 1963, Tony will be the first to tell you that in the early days, surfboard shaping was more centred around lifestyle than business.
Tony is passionate about hand crafted surfboard shaping and has never gone down the path of machine shaping.  Under his brand 'Tube line', Tony not only shaped boards but was an accomplished glasser and sander.  Tony prides himself on the surfer/shaper relationship and prides himself on crafting boards which contain a piece of himself, and nothing makes Tony happier than seeing someone enjoying themselves on one of his creations.
BRIAN 'BJ' JENKINS 1986
BJ is a Palmy boy through and through. Formerly a motor bike rider, he turned his competitive efforts to surfing in the senior men's and master's division. Brian was always supportive of the ASAQ events, he became one of their best judges from the 80s through to the new millennium.
A true gentleman with obliging nature and a great sense of humour, Brian's grasp of surfing history was second to none. BJ was the quintessential quiet achiever character, nothing was too hard, and he never complained, his contribution to Queensland surfing has been immense.
BJ never failed to attend State Committee meetings, he always offered advice, and followed that advice through. His service to the Gold Coast Surfing Association over innumerable years as Treasurer was top shelf. BJ won the Australian Judging Titles and represented Australia as a judge in 1984 USA ISA World titles. Whether, judging at a club, region, state, national, Pro – Am or Professional event, BJ's savvy on judging was amazing. His recall of heat situations was equally amazing.
ROBERT 'BUSHY' MITCHELL 1987
Bushy almost single handily ran the ASAQ during his long run at the helm throughout the late 70s to the 90s.  Learning from the best such as Gordon Philipson, Barry Townend, Bill Bolman and Brian Austen.
Originally from Victoria, Bushy and his family often holidayed with his Grandparents up at Shelley Beach, Queensland and told himself that one day he would try the sport of surfing. He eventually found his base at Caloundra and became the President of Windansea Surf Club which had moved to Sunshine Coast when the Gold Coast branch dissolved. At the same time Bushy was also President of the Sunshine Coast Surfing Association.
A guiding light and mentor to countless Surfing Queensland competitors over a period of 30 years. Elected as president of the ASAQ in July 1979, Bushy held that position for 20+ years, he was also a former Surfing Queensland CEO for six years and was Surfing Australia's first Chair/President. It is important to note that before Bushy's time there had been no Life Members and that Bushy had inducteed the first two Life Members; Gordon Philipson and Barry Townend who very much influenced Bushy during his time at the ASAQ.
A gifted administrator, former National Kneeboard Champion and was hired by Billabong as a contest director, there's not much Bushy hasn't done for surfing and surfers who all owe a deep gratitude for his tireless work and devotion to the sport.
Bushy holds Life memberships with WindanSea boardriders – Caloundra, Sunshine Coast Surfing Association, ASAQ – Surfing Queensland and ASA – Surfing Australia.
THOMAS 'TOMMY' PETERSON 1987
Former Gold Coast President and surfing historian, Tommy joined the Kirra Surfriders with his older brother Michael Peterson (MP) as young grommets. Together they made revolutionary surfboards. Michael was the esteemed competitive champion, but Tommy could hold his own on the Coolangatta Pointbreaks.
He was always a vocal supporter of Queensland competitors when representing the Sunshine State at Nationals. Peterson gained international shaping notoriety when he shaped a fish inspired small wave step bottom channel design for 3X World Champion Tom Curren on a Rip Curl Search trip to Mentawai's in the early 90s.
Much like his sibling, Tommy was manually gifted and was known to do most of the talking for his often quiet and reserved famous brother. Peterson had a visionary approach of thinking and in parts many of his ideas were implemented in that era.
Tommy was also known to be Queensland's team manager at a number of levels and years.
PAUL 'PO' CROSS 2000
Po is a formidable character, a hardworking tradesman who was passionate about his sport and has a heart of gold. He spent tireless voluntary hours judging Queensland surfing events which can be a thankless task, but Po did his fair share.
A proud member of the Kirra Surfriders and a standout on his backhand at Kirra Point. Po found his talent for judging at his local clubs rounds before becoming a regular judge at the regional titles and the ASP tour. Cross was notably the Head Judge for many of Queensland's own events.
He, without doubt is one of the people that saw assistance was needed at events without really saying so. Despite being at events to primarily judge, Po was one of the first to come and offer a hand – no matter the task he just pitched in with a minimum of fuss. In large due to his unselfish efforts, it dawned upon others to help over time. At last, gone were the days of setting up and packing up with one or two people. Thus, there can be no question Po helped create, in Queensland, what we now know as our work crews. Not realising at the time, work crews would become a fundamental ingredient to any successful event – no matter the size.
PAUL 'SMELLY' NEILSEN 2002
The son of Surfers Paradise very first professional lifeguard Bill Neilsen, Paul's second home instinctively became the beautiful beaches along the Gold Coast.
Although his debut surfing experience resulted in his board breaking in two, his passion for surfing was instilled at a very young age and enabled him to become a prominent surfer in Australia during the early 70s.
Neilsen's most notable achievements were winning the 1971 Bells Beach Australian Titles and becoming the 1972 Smirnoff World Pro Champion in Hawaii, scoring a $5,000 cheque which at the time was the biggest cash prize in surfing history.
Paul was our national team coach at a number of ISA World titles early to late 80's plus a variety of inter country events such as Australia verses NSSA. He just had a way of bringing out the best in all teams he coached. The passion he delivered lifted us in many cases to a higher level. Paul and his wife Karen were to the fore in supporting fund raising for our national teams.
Neilsen retired from his professional surfing career in the late 70s to focus on his surf retail company, Brothers Neilsen. It was an instant success and in the early 2000's was known to the largest surf shop retailer in Australia.
Paul was inducted into the Australian Surfing of Fame in 2004.
MAL SUTHERLAND 2004
At the age of four Mal Sutherland had discovered a new playground, Kirra Beach. In his youth, Mal rode surf-o-planes courtesy of Jack Evans who had the concession for Kirra Beach at the time. Then in 1953, aged 13, he purchased the first of two 16ft paddle boards and in late 1956 obtained one of the first hollow ply Okanui boards to come to Queensland.
During this period ('56 to '61) Mal was fortunate to meet some of the surfers who were to become the early movers and shakers in what was about to become a world recognised sport.
In 1963, when the Australian Surfriders Association (ASA) was formed in Sydney, Bob Evans negotiated a deal with Ampol to sponsor the very first World Championship which was to be held the following year. This evidently formed the beginning of Mal Sutherlands extensive involvement within the Surfing Industry.
As Ampol wanted all states to be represented, Evans contacted both Joe Larkin and Mal Sutherland to form an association and hold a contest so Queensland could be represented at the proposed World Titles.
Sutherland was soon elected Vice President which he held for two years then transitioned to secretary for another two years. During this time, Sutherland orchestrated a meeting that later formed the Kirra Surfriders Club. Mal was also a chairman for Surf World Gold Coast for over nine years to which he holds a Life Membership along with Kirra Surfriders Club.
BILL STAFFORD (SENIOR) 2004
Stafford was born and raised in Rainbow Bay in the 20's. He served his time in the air force during the war and once discharged, he then took over his father's menswear business in Coolangatta.
Bill Stafford was the very first President of the Australian Surfriders Association Queensland when it was established back in 1964. Bob Evans (founder of Australian Surfriders Association) had called both Mal Sutherland and Joe Larkin to create a Queensland state body for surfing so Evans could host the inaugural World Surfing Championships.
Sutherland and Larkin having not run a business before called the only person they knew with extensive experience, Bill Stafford.
Ironically, Stafford was not a surfer, but the sport wasn't foreign to him as both of his sons were great surfers known within the south-east QLD community. He devoted many hours to build the ASAQ from the ground up, attended every ASAQ event during his time as President and was a common voice heard over the PA system.
Bill Stafford sadly passed away in 2011.
RUSSELL SPECHT 2014
One of the most gifted and spectacular surfers from North Stradbroke Island who started surfing in the mid-sixties. Immensely respected for his demeanour in tackling powerful surf whether on the Island or at a remote location in Indonesia. A trailblazing goofy footer who turns heads in the line-up and despite a hard exterior is an easy-going, polite, and laidback builder.
Russell is as honest as a day is long. Very down to earth and his word is his bond. Coupled to all these fine attributes is a passion for his island home, his family, surfing, and Point Lookout Boardriders. His early contest success moulded many on the island to believe they could also participate at state, national and international levels.
The film "Morning of the Earth" inspired Russell to travel the world and chase the surf. With uncrowded line ups, Specht was lucky enough to discover the waves of the Mentawai's, Timor, Nias, Java and Fiji.
ROBBIE SHERWELL 2014
Robbie Sherwell, better known as 'Rubberman' for his unique ability to put himself into amazing positions whilst surfing – akin to a circus contortionist. His formative competition savvy developed via his beloved Northshore club which in that era had some very tough talent indeed.
A dynamic natural foot surfer with a driven will to win. If there was an event on in Australia when the APSA and ACC tours were around – often the first entry would be that of Robbie. His surfing stood out no doubt, winning many events, however the other addition Robbie delivered was value to his sponsors … eyewear, clothing, boards – he had the lot covered and did it with aplomb.
Another thing that was evident was he had an eye on the future and that future would continue to be surfing in some form or fashion. Following his competitive surfing, he and his wife Carlene started XL Surfing Academy for learn to surf lessons. Twenty plus years later, XL Surf Academy is still developing lesson across all facets from beginners, right through to professional coaching is a testament to those future thoughts he had.
MARK 'RICHO' RICHARDSON 2014
If there was a 'keep count of titles won', you'd put your money on Richo. Tony Dempsey had a bundle and then along came this nuggety goofy footer and just clicked up win after win. As a young emerging junior in the early 90s, Richo made headlines when taking down former World Champion, Damian Hardman.
Richo represented Australia at multiple World ISA titles. He then briefly retired from surfing competitions to play AFL for a couple of seasons, he was always the competitive athlete. Richo eventually returned back to surf contests, taking out multiple State & National titles before turning his attention to coaching.
Club level, regional, state, national, Pro – Ams, international – there is no event that has escaped his grasp. Richo is a wonderful coach, and his services range from beginners to current professional tour surfers.
Richardson created history in 2000 taking out the open men's and senior men's National titles at North Stradbroke Island.
JOHN 'JC' CHARLTON 2019
Better known as 'JC', he has been involved at all levels of surfing; competitions, commentary, surfboard manufacturing, industry businessman, long time radio surf reporter, then TV producer of Coast to Coast on the 7 Network. JC has quiet frankly done it all.
John started off making surfboards with the likes of Dick Van Straalen, Keith Paul, Greg Clough (Aloha), Geoff Darby and Barland in France. He then became the first full time male employee at Billabong and managed that company in its very early days. Later JC and Dick Van Straalen formed the underground Sea Island label.
Charlton commenced doing radio surf reports for FM 104, moved to Triple M and is still going on the Macquarie network. 11 years were spent at BTQ Channel 7 as a producer presenter for Brownie's Coastwatch, then Creek to Coast. He was a foundering member of Coastalwatch, at the time, Australia's premier surfing website and was the head Reporter, camera tour supremo, talent scout and deputy editor in his 20 years with them.
JC's involvement with Surfing Queensland was very fruitful with many years of commentating, followed by 7 years on the Board, with his last 5 years there as Chairman of the Board and President. On the 50-year anniversary of Surfing Queensland, Charlton was the head producer and director of the 1-hour documentary of Queensland's surfing history.
SUE PAXTON 2019
Sue Paxton started surfing at the age of five and soon became a Rainbow Bay local. Body surfing, zippy boards, surfoplanes, marine ply body boards, you name it, Sue surfed it.
Her first surfboard was gifted from her board shaping brother Joe Larkin. Paxton then moved to riding longboards and shortboards, ensuring she only surfed boards shaped by household names Wayne Deane and Joe Larkin.
At the time Paxton started competing there was little female representation out in the water, so it was very common for women to compete against the men back in those days.
Sue then went on to compete at a state and national level for longboarding, assisted with judging at numerous competitions and helped organise the long running Malfunction event for 20+ years. Paxton became the 1986 Australian Longboard Champion, runner up five times and won numerous state titles.
MAL CHALMERS 2019
Mal has been active in the Queensland surfing community since the late 1960's when he was a club delegate for the iconic Windansea Surf Club based in Surfers Paradise.
During his legal career, he acted for many companies in the surf industry including Brothers' Neilsen who through sponsorship strongly supported the growth of surfing in Queensland right through to the early 2000's.
Chalmers provided legal advice for local clubs and is known to be a member/official for several clubs. He served on the board of Surfing Queensland for six years from 2005 and became Chairman in 2010.
In 2006, Mal won the 0/55 Masters Queensland Title. He continues to be actively involved at a grass roots' level through competing at a club level and in an administrative capacity.
PHYLLIS O'DONELL 2022
Phyllis O'Donell will forever be known for paving the initial pathway for all female competitive surfers. At a time, surfing was heavily dominated by males, Phyllis began surfing the banks of Kirra at the ripe age of 23. Only four years later, O'Donell would be crowned the first female Surfing World Champion.
Her championship became a progressive step in the right direction for women being recognised in sport. The following 10 years witnessed O'Donell racking up stellar results at a national and international level.
Additional to her competitive surfing career, Phyllis was a founding member of ASAQ (now known as Surfing Queensland) and devoted countless hours to our organisation as a Secretary. In 1966, she also became the second woman to be inducted into the Australian Surfing Hall of Fame.
GAIL AUSTEN 2022
Gail Austen is a well-known Brisbane identity and was a pioneer for the surf industry in Queensland since the 1970's. Her accolades include being a world class athlete, and in 1974 she founded the Australian Women's Surfriders Association, to promote women in Surfing in Australia.
She also created the Straddie Classic to bring the coast and Brisbane together. Austen setup a renowned business 'Goodtime Surf' which she still owns and operates today, more than 47 years later.
Austen has extensively contributed to many water sports associations, communities, youth, disability charities and Brisbane businesses. Her ethos is one of contributing back to community and demonstrates this by dedicating her life to raise funds for others, giving purpose, building communities, and making a difference for Brisbane.
GLEN ELLIOTT 2022
Glen has travelled and worked around the world as a professional surfing judge for the past 35 years having judged numerous events for Surfing Queensland, Surfing Australia, WSL, and the ISA.
His passion motivated him to create a better professional development pathway for aspiring judges as the author of the Surfing Australia and ISA International judging educational resources and course programs.
Life member of Palm beach Boardriders and member since 1978. Seven-time Palm beach Boardriders Open Club Champion through the 1990s to early 2000s and represented Surfing Queensland in the Australian Junior Titles 1981-1982. He was then appointed on the Surfing Queensland Board of Directors in 2005 and 2006.
Glen's biggest achievement was being selected to be the first ever Head Judge for surfing at the 2020 Tokyo Olympic Games. Adjacent to the Olympics, Glen has been a long serving Head Judge for the ISA World Championships, Surfing Australia Titles, World Surf League, Pan American Games, as well as being a technical director, executive director, and contest director to other major events.
JOHN DEANE 2022
John Deane was one of the most respected men in Coolangatta and father of surfing legends Robye and Wayne Deane (Life Member inducted in 1985).
A builder by trade who loved surfing, taught both of his sons how to surf. John bought the boys their first surfboards on Christmas Day 1960 and took them for their first surf at Snapper Rocks.
Deane was one of the original founders of the Australian Surfriders Association Queensland (ASAQ) and orchestrated administrative affairs for the organisation. Deane ensured that surfing was respected and seen as an official sport so a young kid could dream of a future in surfing.
Between 1970-75 our Queensland State team won five consecutive Australian Open Titles and behind the success was solid administration thanks to John Deane.
John Deane left the surfing community in early 2023, however his impact for the sport will forever live on.
PETER 'PT' TOWNEND 2023
Peter better known as 'PT' began surfing at a young age at his local, Coolangatta. During the seventies PT and his mate/key surfing rival Michael Peterson took control of competitive surfing in Australia.
PT was considered one of the best surfers from the 70's right through to the 80's. Peter was a man of many talents and there wasn't much he couldn't do, from shaping boards, being a stunt double, promotional ambassador, writer, event organiser, publisher, and coach to future titleholders.
Peter's most notable achievement was becoming the first ISP/ASP World Surfing Champion in 1976 and ranked top five throughout the end of the seventies. He then transitioned into a business career in event management, publishing and brand marketing including long stints at Surfing Magazine and Rusty Surfboards and Apparel.
A member of the "Bustin Down the Door" generation that helped create modern pro surfing as we know it today and a founder of the Bronzed Aussies, the first professional surfing team.
Peter had been a long-time TV surfing event commentator for Prime Ticket (Today's Fox Sports) and ESPN in the Nineties, as well as host on TV shows "Wave Watch" in the Eighties and today's "Surf Scene with PT" and still occasionally gets in the broadcast webcast booth for WSL surfing.