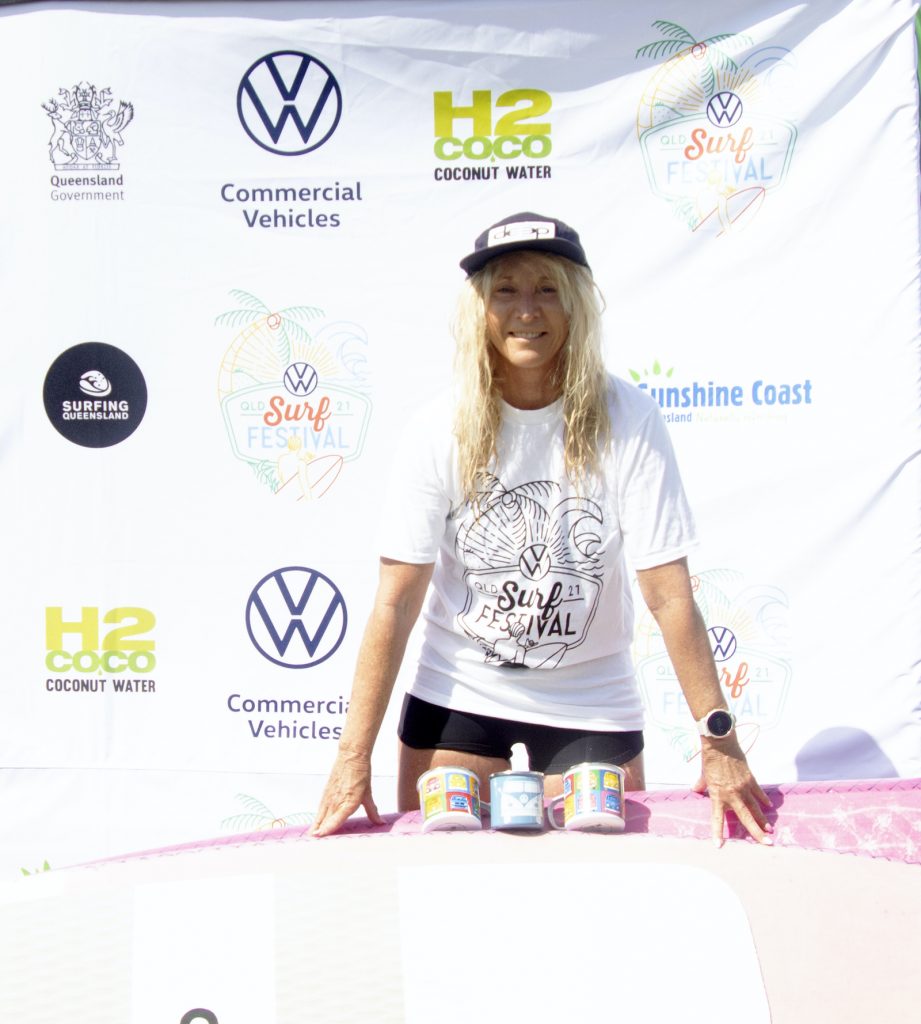 SUNSHINE COAST, QUEENSLAND (Wednesday 24 March 2021) – The 2021 Volkswagen Queensland Surf Festival today moved on to the Stand-Up-Paddleboard (SUP) divisions.
The Festival once again relocated in order to run in the best possible conditions. The decision to move the event meant competitors were greeted with clean, offshore conditions all day.
The standout competitor was Dimity Faulkner (CURRUMBIN WATERS) who placed first in three divisions: the Over 50 Women, the Over 40 Women, and the Over 40 Women 10ft.
Faulkner said the conditions were nice, but the size of the swell didn't make surfing easy.
"It was actually challenging to paddle out there. I surfed a lot today so I was getting quite tired towards the end. I work hard at my surfing but today was no walk in the park."
Keale Dorries (CURRUMBIN) and Brea Wright (BRISBANE) battled it out in two divisions: Open Womens SUP and Open Womens SUP 10ft, with Dorries taking both wins.
Dorries said she was happy to equal last year's performance.
"I won both events last year so I've been able to match that. Today the surf was really good but also tricky. Bria is a couple of years younger than me but we often compete against each other."
Darren Bason (MOUNTAIN CREEK) was another standout performer of the day, taking out the Open Mens SUP division.
Bason said he was satisfied with his performance, particularly as he wasn't able to compete in last year's event.
"It was really fun out there. It's the cleanest swell we've had in a long time. I was injured last year so I had to pull out of the competition. I was determined to do well this year."
Tomorrow the Festival moves on to the Bodyboard divisions.
Full Results
Open Women SUP
Keale Dorries (1ST)
Brea Wright (2ND)
Open Men SUP
Darren Bason (1ST)
Jonathan Hagen (2ND)
Steve Elliot (3RD)
Kaelan Lockhart (4TH)
Over 40 Men SUP
Steve Elliot (1ST)
Steve Morley (2ND)
Craig Liddicoat (3RD)
Andrew Stone (4TH)
Over 40 Women SUP
Dimity Faulkner (1ST)
Karmen Karnbren (2ND)
Over 50 Men SUP
Darren Bason (1ST)
Graham Moustaka (2ND)
Steve Elliot (3RD)
Chris Carter (4TH)
Over 50 Women SUP
Dimity Faulkner (1ST)
Ruth Goiny (2ND)
Open Womens 10ft SUP
Keale Dorries (1ST)
Brea Wright (2ND)
Open Mens 10ft SUP
Steve Morley (1ST)
Jonathan Hagan (2ND)
Kaelan Lockhart (3RD)
Mick Parkhill (4TH)
Andrew Stone (5TH)
Over 50 Mens 10ft SUP
Chris Carter (1ST)
Graham Moustaka (2ND)
Greg Poultney (3RD)
Peter Turner (4TH)
Over 40 Women 10ft SUP
Dimity Faulkner (1ST)
Ruth Goiny (2ND)
Media Contact
Mitchell Shepherd | Communications Manager | 0418 201 700 | mitchell@surfingqueensland.com.au